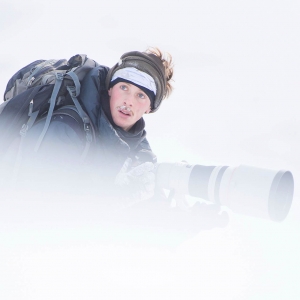 Jérémie Villet believes that somewhere on Earth our imagination becomes real. He stopped his studies to travel alone with his skies and his little sled. Over these long solitary expeditions in remote places where man does not go, Jérémie uses snow as a painter uses white paper to reveal nature purity.The emotion becomes inspiration and the square format is a window open to this world.
" Every year, when snow falls for the first time with the last of autumn leaves, white landscapes form the perfect backdrop. Snow erases the superfluous, sweep away the excess while making the essential stand out. For a few months, I travel this wintry world looking for new memories to engrave between the lines of reality and imagination. Far from the rest of the world, this pristine setting has remained my childhood garden, and photography, my inalienable right to dream. "
Jérémie's photographs have received multiple awards, including Wildlife Photographer of the Year and European Photographer of the Year, and have appeared in numerous international journals and books.
Each artwork is a limited edition of 30 prints only, all sizes included.
It is hand-signed by Jérémie Villet, numbered and delivered with a certificate of authenticity.
Jérémie's work has been shown in art galleries and museums in numerous places as London, Paris, Mégève, Chamonix, Crans-Montana, Montier-en-Der, Namur, Hamburg.